Ally x Joyce: Chickpea Stuffed Peppers & Quinoa Goreng
If you follow me on Instagram, you'll know these past few days I've been staying with my bestie, Ally, in London and we've been playing MasterChef — vegan style. A lot of you have asked for our recipes so we've decided to share them. We made Chickpea Stuffed Peppers which we had with homemade wedges, roasted courgettes, pico de gallo and guac. On the second night, Quinoa Goreng. Just to give you some context, Ally does not like chickpeas but she loved it in both the recipes and was fully vegan for 2 days — this is the girl who ate KFC 20 mins after attempting to be vegan once, so round of applause!
Recipe: Chickpea Stuffed Peppers (GF)
Makes 2 halves
The question vegans often get asked is where they get their protein from, and one of my favourite sources is chickpeas. Beans or legumes like chickpeas, black beans and lentils are great because they're hearty and can be transformed depending on how they're cooked. The stuffed peppers were quick and easy to make and packed with flavours. Feel free to play around with different spices and ingredients, we amped up the garlic in ours (using more than listed in the recipe) so adjust according to your taste preferences!
• 1 red capsicum, halved (stalk & seeds removed)
• ½ red onion, diced
• 3 cloves garlic, chopped
• ½ tin chickpeas
• 3 tbsp sweet corn
• 1 bunch coriander, chopped
• Handful of spinach
• 2 tbsp mild curry powder
• 1 tbsp coriander powder
• 2 tsp garlic paste
• Chilli flakes, to taste
• Cooking olive oil
• Salt & pepper to taste
1. Preheat the oven. Preheat the oven to 175°C.
2. Mash the chickpeas. In a bowl, use a potato masher or fork to roughly mash the chickpeas. Leave a few chickpeas whole, you don't need to mash it until it becomes a smooth paste.
3. Sauté the stuffing. In a medium sized pan, sauté the garlic and onion in some cooking olive oil until slightly translucent. Add the chickpeas, sweet corn, spices, garlic paste and season with salt and pepper. Continue to sauté the stuffing for a few more minutes. Stir in the spinach and some chopped coriander stalks until slightly wilted. Reserve some coriander leaves to garnish.
4. Stuff the peppers. Stuff the capsicum halves with the mixture and place them stuffing side up on a baking tray. Place in the oven and roast for about 20 minutes.
5. Serve. Once done, remove the stuffed peppers from the oven and garnish with more chilli flakes and coriander leaves.
Recipe: Quinoa Goreng
Serves 3
On the second night we had a few leftover ingredients in the fridge and wanted something we could make quick. Swapping grains is a fun way to mix up dishes you usually make. Instead of making traditional nasi goreng or fried rice, we went for quinoa. A top tip for making nasi or quinoa goreng is to use cooked grains that have been in the fridge overnight, a big wok, high heat and really tossing all the ingredients. This will keep your quinoa goreng fragrant and prevent it from getting too wet and sticky.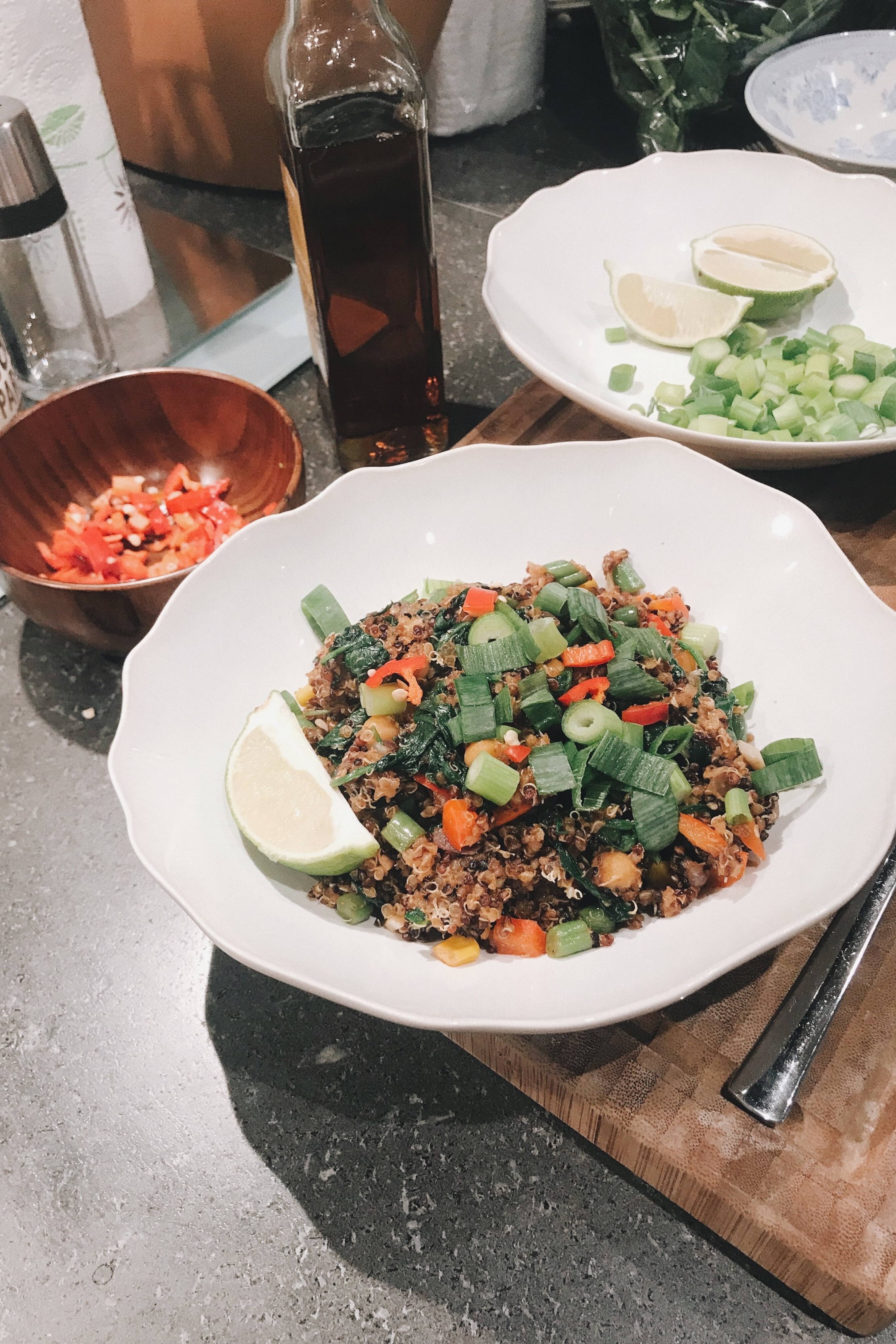 • 1 cup quinoa
• 2 cups water
• 4 cloves garlic, sliced
• ½ red onion, diced
• 1 red capsicum, diced
• 1 handful green beans, chopped
• Handful spring onion sprigs, chopped
• ½ tin chickpeas
• 1 red chilli, diced (adjust according to preference)
• 1 handful baby spinach
• 2 tsp garlic paste
• 2-3 tbsp soya sauce (or tamari if GF)
•1 tbsp sesame oil
• Salt & pepper to taste
1. Cook quinoa. Rinse the quinoa and add with the water to a medium sized pot. Cover and bring to a boil (should take 5 mins). Keep the pot covered, turn to the lowest heat and let it simmer for another 10 mins. Turn off the heat and let the quinoa sit for 5 mins covered, before removing the lid and fluffing it with a fork. Set aside.*
2. Fry the vegetables. Add some coconut oil to a wok and sauté the garlic and onions for a few minutes on a medium to high heat. Keep tossing so it doesn't get burnt. Add the green beans, capsicum, chilli and chickpeas. Season with salt, pepper & garlic paste and continue tossing. Turn the heat down if the wok gets too hot.
3. Fry the quinoa. Add the cooked quinoa to the wok and stir in with the vegetables. Add the soya sauce and sesame oil. Keep tossing for a few minutes and once fragrant stir in the spinach.
4. Serve. Garnish with spring onions, chillis, a drizzle of sesame oil and serve.
* Make the night before if you have time.